By the way, do you know that there live in Iran about 400,000 Armenians? On the 24th of April every year, they commemorate the
Ottoman massacre of Armenians
:
"Iranian Armenians Gather in Tehran to Commemorate the 24st April"
, Cultural Heritage News Agency (see Hossein Salmanzadeh's photos of the 2006 commemoration).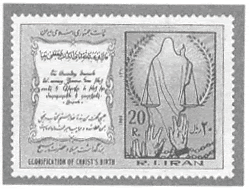 One of the best Iran Studies scholars, Ervand Abrahamian, is an Armenian born in Iran and raised in Britain. Abrahamian notes: "As a gesture of goodwill toward the Christians, the Islamic Republic issued a postage stamp bearing Jesus' silhouette and a Koranic verse in Armenian -- the first time Armenian had appeared on a stamp since the fall of the Armenian Republic in 1921" (
Khomeinism: Essays on the Islamic Republic
, Berkeley: University of California, 1993).
Iran's relation with Armenia is also good:
"Armenian President Rejects Sanctions against Iran,"
Islamic Republic News Agency, 10 July 2007.