Today is the 195th anniversary of Venezuela's independence. There are three developments to mark the happy occasion.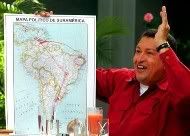 Venezuela has won its battle for universal literacy, thanks to Cuba's assistance: "The two-year Robinson Mission, in the process of concluding, has taught 1.5 million adults learn to read, while Robinson Mission II will help those without prior opportunity to study to reach a sixth grade level, and the Ribas and Sucre programs are concentrating on university education" ("Venezuela´s New Independence Day,"
Prensa Latina
,
5 Jul. 2005
).
Venezuela created Petrocaribe.
"Today I propose to the Caribbean that we form an energy alliance," Chavez told the visiting leaders, saying the oil plan would be a new force for integration.

. . . . . . . . . . . . . . . . . . . .

Castro called the plan an important step toward greater solidarity, "the only method of survival for our countries" as oil prices continue to rise.

The initiative, called Petrocaribe, would extend and improve special financing arrangements under past oil deals and use an expanded fleet of Venezuelan tankers to deliver fuel directly to bypass costly intermediaries, Chavez said.

He said the Venezuelan state oil company had created a new affiliate called PDV Caribe to coordinate the project and that Venezuela would be willing to accept goods such as bananas or sugar for a portion of payments. He said Venezuela also was prepared to help build new oil depots in the islands to help.

The initiative could help small Caribbean countries save a projected $6 a barrel on fuel, Venezuelan Foreign Minister Ali Rodriguez said. (emphasis added, Associated Press, "Caribbean Plan for Cheap Regional Fuel," CNN, 29 Jun. 2005)
And Venezuela launched the
Bolivarian Alternative for the Americas
(
ALBA
) for a true social and economic integration of Latin America, declaring "the US-sponsored Free Trade Agreement for the Americas (ALCA) dead and impracticable in current regional conditions" ("Venezuela Celebrates Independence and Integration,"
Prensa Latina
,
5 Jul. 2005
).