A new group of veterans just got organized:
Iraq Veterans Against the War
.
The IVAW has a short and pithy mission statement:
We are committed to saving lives and ending the violence in Iraq by an immediate withdrawal of all occupying forces. We also believe that the governments that sponsored these wars are indebted to the men and women that were forced to fight them and must give their Soldiers, Marines, Sailors, and Airmen the benefits that are owed to them upon their return home.
Admirable clarity!
Alexander Zaitchik sees a "possible storm cloud" on the Iraq front: "The founding membership totals just 12 -- double the number that hatched Vietnam Veterans Against the War in 1967. Within two years that group had grown to more than 30,000 active members demanding an end to the war. . . " ("The Slumbering Ranks,"
New York Press
17.30,
July 28-Aug 3, 2004
). He concludes the article with an image of ironic reversal: "Should John Kerry be in the White House when Iraq veterans start tossing their medals in its direction, the irony will be thick" (
July 28-Aug 3, 2004
).
Speaking of veterans, Marine Lance Cpl. Abdul Henderson (a reservist with
the 3rd Air Naval Gunfire Liaison Company
out of Long Beach, California), who makes an appearance in "his service dress Alpha uniform" in
Fahrenheit 9/11
, is in trouble:
At one point, Moore asked the 29-year-old Marine, who served in Iraq last year, whether he'd return to the Middle East to fight again.

Moore: "If you get called up, will you go back to Iraq?"

Henderson: "No."

Moore: "Why not?"

Henderson: "No."

Moore: "What repercussions do you face if you don't. . . ."

Henderson: "It's possible jail time. That's one possible thing."

Moore: "Are you willing to risk that?"

Henderson: "Yes. Yes, I will not let my person . . . I will, I will not let anyone send me back over there to kill other poor people. Especially when they pose no threat to me and my country. I won't do it."

Henderson's comments and big-screen appearance -- in a scene in which Moore . . . pokes fun at lawmakers by saying that of 535 Congress members, only one has a child serving in the Middle East -- prompted commanders to investigate his association with the film, said Capt. Peter Kerr, a spokesman for Marine Forces Reserves in New Orleans. (Sandra Jontz, "Marine's 'Fahrenheit 9/11' Comments Investigated," Stars and Stripes, July 31, 2004)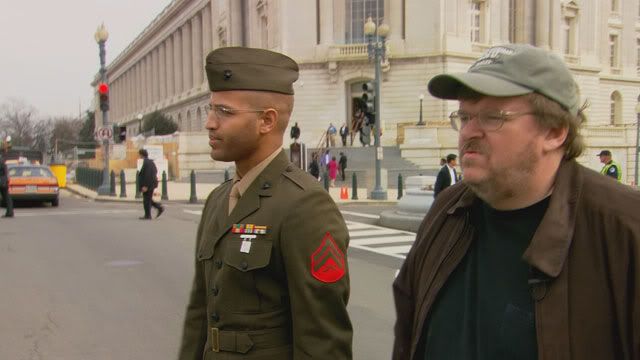 The
USA Today
quotes Cpl. Henderson: "'The question kind of surprised me, because I wasn't expecting it,' says Cpl. Henderson, a reservist who saw combat for about two months after the Iraq war began. 'But my answer came from the heart'" (Gary Strauss, "'Fahrenheit' Soldier in Hot Water?"
July 28, 2004
). All of us who watched
Fahrenheit 9/11
, as well as Michael Moore himself, owe it to Cpl. Henderson to support him in any way we can.