According to Robert Collier of the
San Francisco Chronicle
, Fuad Rashid, imam of the al-Qadisiya Mosque (the sole mosque in the Green Zone), is "the only Sunni Muslim cleric in Iraq who defends America from his pulpit": "[H]e proudly calls himself the 'only imam in Iraq who speaks in favor of the Americans.' 'I love America,' Rashid said, with passion. 'Americans are so beautiful'" ("Eccentric Ally in Green Zone: Imam Extols U.S., Reveres Virgin Mary -- Despised by Fellow Clerics,"
July 31, 2004
). What may make some American occupiers not so much grateful as uncomfortable is his fabulous drag:
Resplendent in a cream-colored gown and a white gauze turban around his boyish face, the 40-year-old Rashid looks more like a Catholic nun than a Muslim cleric. The similarity is deliberate -- he readily admits that he models himself after Mary, the mother of Jesus.

Although Islamic doctrine considers Mary the virgin mother of a prophet -- a status almost as revered in Islam as it is in Christianity -- it is unheard of for a Muslim cleric to adopt Christian-style garb, much less a woman's.

Rashid says Mary appeared to him in three visions telling him to follow her. He adopted the style when he was a seminary student in Baghdad in the early 1990s, but it has become more pronounced since his mosque came under U.S. protection after the April 2003 fall of Saddam Hussein's regime.

Rashid's close-cropped beard is dyed blond, in keeping with his all-white image -- a sign of purity, he says -- and he wears patterned contact lenses. (Collier, July 31, 2004)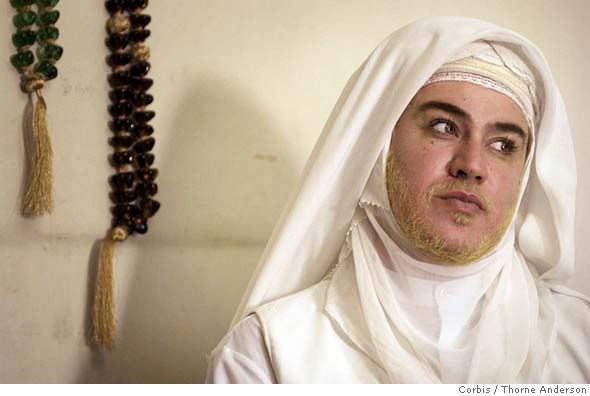 Imam Fuad Rashid is an eloquent preacher who advocates conservative social values and American-style democracy.
Imam Rashid -- "married for five years to a woman 20 years his junior" but without children, "a rarity in Iraq" -- speaks "near-fluent English," Collier reports, having learned the language "by watching videos of his three favorite movies, 'Gone With the Wind,' 'Love Story' and 'The Bodyguard'" (
July 31, 2004
). The good imam inveighs against alcohol ("[a] man who drinks is the same as a man who worships another god"), despises his fellow Iraqis ("Iraqis are all animals, 95 percent are looters"), and would like to go to America "soon" (
July 31, 2004
).
Right-wingers bristle at any comparison between the occupation of Iraq and the Vietnam war. What will they have to say when they hear satirists compare the Green Zone to a John Waters film?