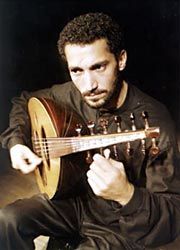 Listen to
"L'Abri d'Al-Amiriyya"
(the
penultimate
in the play list for
Inner Ear Detour with David
, WFMU 91.1 FM/90.1 FM,
January 29, 2004
) by Nassir Shamma, a Cairo-based Iraqi oud player. Shamma's "lute goes to war, death and damnation," taking the audience to "the very edges of barbarity," as David Blake says ("Protoplasmic Instrumentals,"
Al-Ahram Weekly
493,
August 3-9, 2000
).
"L'Abri d'Al-Amiriyya" conjures, through sound images, the bomb shelter devastated by two American bombs on February 13, 1991, incinerating more than 400 Iraqi women and children.
Shamma says, "I don't remember exactly how I felt but I found myself going to the site of the massacre the next day. I took my oud along and started to play, . . . in the middle of the burnt out backpacks, toys and clothes" (Sherif Iskander Nakhla, "In Progress: Legends of the Oud,"
Al-Ahram Weekly
654,
September 4-10, 2003
).
What do you hear in "L'Abri d'Al-Amiriyya"? A lyrical melody, slow and sweet, shelters you first. The tempo becomes faster, tense foreboding notes stealing into the shelter. Then, piercing air raid sirens suddenly bring chaos. The chaos is followed by laments, dark, long, and inconsolable. And yet, the piece ends on a note of hope, as if to vindicate life, not death, against all odds.
According to Elliott Colla, Shamma first publicly performed the piece "in the ruins of al-'Amiriyya on the one-year anniversary of the massacre" ("
Le lute de Bagdad
. By Naseer Shamma. [Paris: Institut du Monde Arabe, 1995-99],"
Middle East Report
215,
Summer 2000
).
How does Shamma feel about the invasion of Iraq that began on March 20, 2003?
"We have to stand together as Iraqis in the face of this brutal aggression by the allied forces," said Nassir Shamma, the Cairo-based Iraqi musician.

Iraqis have forgotten the political, ideological and religious differences that divide them but are determined to stand as a united front in the face of the American and British attacks. The systematic destruction of Iraq is unacceptable. "The US tried to starve Iraq for the past 12 years. They now pretend that they want to save and feed the Iraqi people. What Iraqis are in most need of at the moment is moral support," Shamma stressed.

"I phone my relatives and friends in Iraq whenever I hear that allied missiles have targeted a city or a suburb of Baghdad. I phone the people I know in that particular suburb or town.

"I plead with the readers to pray for the people of Iraq. To pray in their own language and according to their own religion for peace, for an end to oppression in the world," Shamma told the Weekly.

"People the world over must acknowledge that smaller nations can stand up for their legitimate rights, for national self- determination and in defence of their countries and the wealth of their land. We do not want the law of the jungle, the survival of the fittest," Shamma added.

"Iraqis have faith in their country and in its potential. But the heavy fighting has resulted in the loss of life. Since the outbreak of the war, I have lost a brother-in-law. My sister has been widowed because of this cruel war. My sister's husband, Nabil Imran, was 44 years old. He was killed on the fourth day of the war. I know of children of friends of mine who have been killed in the bombardment. A classmate of mine has been killed," Shamma said.

"What really galls me is that I cannot do anything. I cannot help my people back home. I can only watch the suffering on television. I feel I am choking sitting here incapable of fighting with my brethren back home." Shamma fought in the 1991 Gulf War. He knows what war is about. "It pains me to watch the aggression against Iraq today. It is difficult for me to describe the pain. I feel violated. I feel that my whole identity is under attack when I watch my flesh and blood, kith and kin, being butchered by the barbarous air raids and missile attacks," Shamma said.

"Sometimes I feel that I must go to Iraq and join forces with my compatriots at war to defend my country." Shamma, a proud father of a newborn, said that he is restrained by his familial responsibilities, but even so, he does not know if he can hold back for much longer. (Gamal Nkrumah, "Gazing at Hell without Blinking," Al-Ahram Weekly 632, April 3-9, 2003)