Last month, Mexico's Foreign Ministry published
Guía del Migrante Mexicano
[Guide for the Mexican Migrant], a 31-page illustrated handbook for Mexican workers who cross the Rio Grande in search of
trabajo
, and distributed "about 1.5 million copies" of it (James C. McKinley, Jr., "A Mexican Manual for Illegal Migrants Upsets Some in U.S.,"
New York Times
,
January 6, 2005
).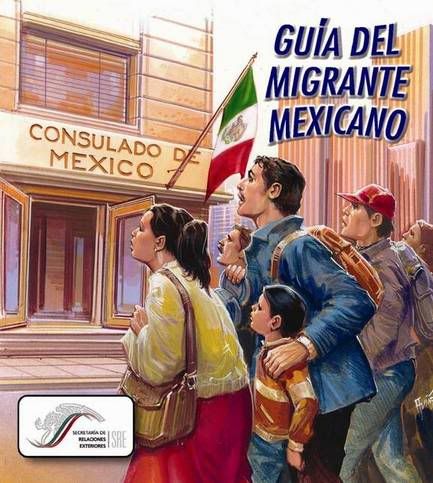 Guía del Migrante Mexicano
gives sensible advice to would-be migrant workers, alerting them to
dangers
of crossing the river and the desert, cautioning them against the wiles of coyotes and drug smugglers who are ready to exploit them, counseling them to stay out of trouble that might lead to arrest and deportation, and teaching them to exercise the rights they do have regardless of their immigration status if they get detained (the
New York Times
made excerpts from the English translation available: James C. McKinley, Jr., "A Guide for the Illegal Migrant,"
January 9, 2005
).
the loss of life
. Last year,
more than 300 migrants died
while crossing rivers and deserts to reach the United States" (emphasis added, McKinley, Jr.,
January 6, 2005
). The handbook even comes with a bright yellow disclaimer on the last page.

The anti-immigrant Right, however, are unappeased: "'If the Mexican government were really very concerned about their citizens dying in the desert, why doesn't it use its army and police to prevent people from crossing in those areas?' said Steven Camarota, director of research at the Center for Immigration Studies, which favors tighter borders" (McKinley, Jr.,
January 6, 2005
). It's a pity that Mexico is a capitalist country -- if only Mexico had gone Communist, Mexican migrants could have expected as warm a welcome from the Right as Elián Gonzalez received. The Right wouldn't let you go even if you wanted to go home to your father!
Seriously, where would the U.S. economy be without an estimated
$155 billion
in output that 3 million undocumented Mexican workers add to it?