Ken MacLeod, a superb Red science fiction writer, says in his blog: "Socialist Realist art now commands higher prices than that of the dissidents and the Western-imitative official art of perestroika. The market has taken an ironic revenge on its votaries" ("Enduring Art,"
The Early Days of a Better Nation
,
January 9, 2005
). You don't believe it? Elena Borissova gives you a glimpse of appreciating market values of Socialist Realism: "Reviled for more than a generation as mere Stalinist propaganda, Socialist Realism is now firing interest among canny Western collectors. Over the last 12 months, Sotheby's has marked up record prices for Russian paintings. One canvas by Michael Nesterov made £600,000 -- five times the reserve price" ("Art Revolution Fired by the Ghosts of Socialism,"
Camden New Journal
,
January 22, 2004
). New valuations of Socialist Realist art have been made possible by new critical evaluations of it (for an overview, see Marek Bartelik, "Concerning Socialist Realism: Recent Publications on Russian Art,"
Art Journal
,
Winter 1999
).
Is the boom in Socialist Realist art merely the latest fashion in the art market and criticism, an example of capitalism's voracious appetite for colonizing all things still outside the market and commodifying them as profitable novelties? In part, yes. That's not the only story, however. For instance, revaluation of Alexandr Deineka, whose art straddles the Constructivist and Socialist Realist schools, is certainly overdue: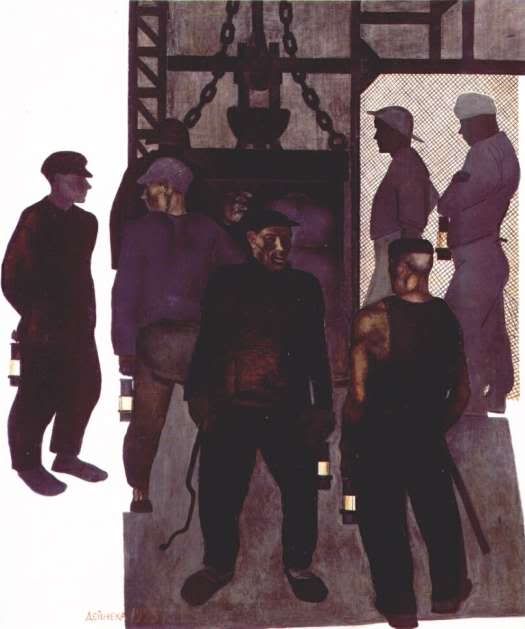 Alexandr Deineka, "Before Descending into the Mines" (1925)
Even more conventionally Socialist Realist artists, whose works (as well as Deineka's) are currently on display at
the Smithsonian's International Gallery
, created a number of remarkable pieces, expressing myriad moods of everyday Soviet life -- from bottomless grief of "Black Lake," urban loneliness of "Waiting," sensuous serenity of "Floor Polisher," to wordless longing of "Morning" -- in a wide range of styles irreducible to the proletarian heroic mode.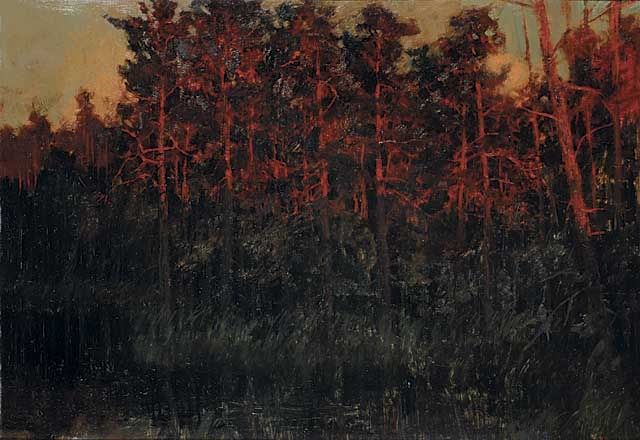 Nikolai M. Romadin, "Black Lake," 22 5/8 x 32 3/8, Oil on Board (1946, the State Tretyakov Gallery, Moscow)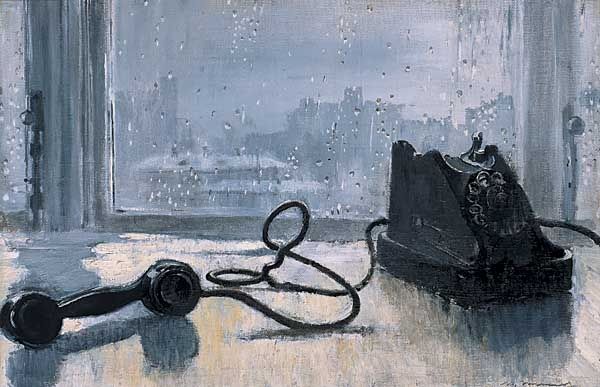 Yuri I. Pimenov, "Waiting," 23 5/8 x 31 1/2, Oil on Canvas (1959, the State Tretyakov Gallery, Moscow)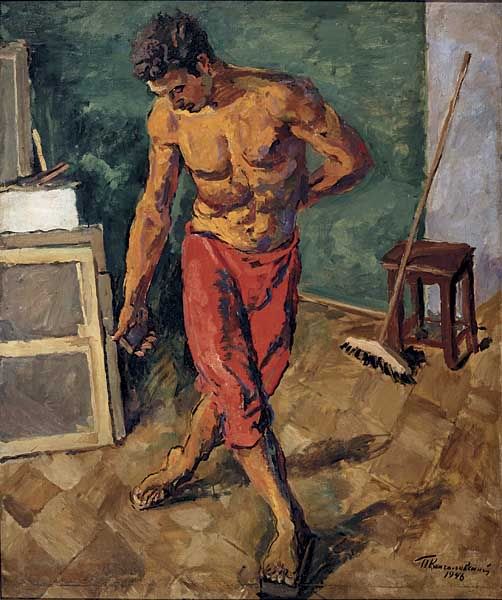 Petr P. Konchalovski, "Floor Polisher," 66 5/8 x 55 3/4, Oil on Canvas (1946, the State Tretyakov Gallery, Moscow)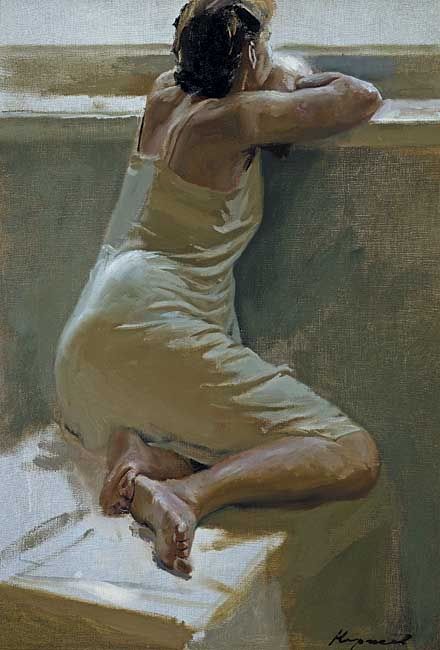 Geli Mikhailovich Korzhev-Chuvelev, "Morning," 31 1/4 x 21 1/4, Oil on Canvas (1958, a Private American Collection)