What's the matter with General Motors and the United Auto Workers? Problems are many.
Poor Design and Poorer Fuel Economy
"'The U.A.W. is not convinced that G.M. can simply shrink its way out of its current problems,' Richard Shoemaker, the union's vice president in charge of relations with G.M., said in a statement. 'What's needed is an intense focus on rebuilding G.M.'s U.S. market share, and the way to get there is by offering the right product mix of vehicles with world-class design and quality'" (Danny Hakim,
"G.M. Will Reduce Hourly Workers in U.S. by 25,000,"
New York Times
, 8 Jun. 2005). Right he is, but has he done anything about that, like pushing the boss to make sleeker and Greener vehicles? Far from it -- he helped GM dig its own grave -- as well as its workers' -- deeper:
"The UAW submits now is not the time to impose onerous, excessive and discriminatory fuel economy standards on General Motors, Ford and DaimlerChrysler that will lead to job loss, which will of course will have an adverse effect on the economy," said Richard Shoemaker, international vice president of the United Auto Workers.

The auto companies and the UAW oppose a congressional bill that would raise average fuel economy standards to 35 miles per gallon by 2013. They believe it would result in the elimination of popular and profitable sport utility vehicles, pickup trucks and minivans, known collectively as light trucks.

The current standard is 27.5 miles a gallon for cars and 20.7 miles per gallon for light trucks. (Associated Press, "US: General Motors Protests Proposed Fuel Standards," 25 Feb. 2002)
GM's and the UAW's strategy has been to sell as many profitable but gas-guzzling light trucks as possible while practically giving away ugly unsalable cars solely to meet the CAFE standards -- barely. That's neither good business nor good unionism. What were they thinking? Did they hallucinate that cheap oil would last forever? Once higher gas prices began to make SUVs less attractive, the strategy was doomed. By now, it has got to the point that GM is obliged to offer employee discounts to all customers!
"General Motors Corp. has tossed aside a promise to back off sweeping national discounts by taking the unprecedented step of extending employee discounts on new cars and trucks to all consumers.

Combined with current rebates, consumers will be able to save more than $10,000 on some vehicles.

The deals -- available through July 5 -- are aimed at boosting the automaker's sagging sales, clearing many of the 1.2 million vehicles sitting on dealer lots, and above all, keeping GM's assembly plants operating. (Ed Garsten, "GM Gives Employee Deals to All," Detroit News, 2 Jun. 2005)
No wonder that, according to the Harbour Report, "for the first three months of 2005, Nissan made the most money per vehicle, earning an average of $1,603. General Motors was at the opposite end of the spectrum, losing
$2,331
on each vehicle" (emphasis added, Jeremy W. Peters,
"U.S. Car Makers Still Trailing Japanese,"
New York Times
, 3 Jun. 2005).
Competition and the US South
[L]ike a motorist in a gawker slowdown ogling a wreck on I-75, it's difficult to turn away from the growing Motown pile-up of auto parts suppliers that is likely to get larger and bloodier before it gets smaller and cleaned up.

There are the bankruptcies of Tower Automotive and Meridian Automotive Systems; the ouster of Collins & Aikman Co. Chairman David Stockman and the confirmation Thursday of a cash crisis; the turmoil surrounding Delphi Corp.'s accounting probe and the search for a successor to Chairman J.T. Battenberg.

And the mess that is Visteon Corp. -- dismal credit ratings, tense negotiations with its former parent, a revolving door in the CFO's office and now a warning that it may not have enough cash to cover its expenses -- puts the former ward of Ford Motor Co. in a class all by itself.

. . . . . . . . . . . . . . . . . . . .

If you want to know how the market share slides and financial pressures on Ford and General Motors Corp. ripple across an industry as rivals prosper, how the inability of the UAW to organize foreign automakers and their suppliers affects Detroit and how it all looks, this is it. (Daniel Howes, "Auto Suppliers Face Brutal Shakeout, Need for Restructuring," Detroit News, 13 May 2005)
Where does the UAW need to go to organize GM's international rivals? Mainly to the US South, where "the newest factories are concentrated" (Micheline Maynard,
"Foreign Makers, Settled in South, Pace Car Industry,"
New York Times
, 22 Jun. 2005) due to its anti-union labor laws: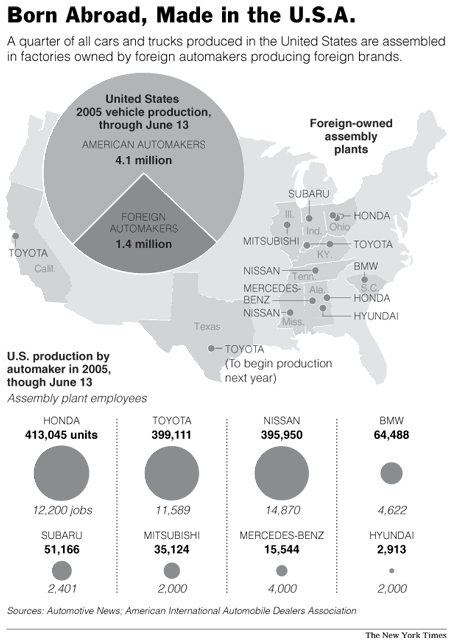 Source: Micheline Maynard, "Foreign Makers, Settled in South, Pace Car Industry" (New York Times, 22 Jun. 2005)
Health Care
GM workers' health care costs aren't the only problem, but health care
is
one of the bigger problems for GM and the UAW:
GM provides health coverage to 1.1 million employees, retirees and dependents, more than any other company in the country. Its health-care cash tab last year was $5.2 billion and is expected to grow to $5.6 billion in 2005. GM estimates its future health-care obligations at $77 billion and growing.

. . . . .

Some auto insiders, as well as GM itself, say the $1,400-$1,500 per vehicle it spends on health care forces GM to cut corners on products, or pass up some new products altogether. (Katie Merx and Jeffrey McCracken, "Health Care May Not Be the Worst of GM Worries," Detroit Free Press, 30 Apr. 2005)
As long as GM's and its suppliers' health care costs are unsocialized, GM will remain at a disadvantage in competition with manufacturers whose workers are either strong enough to enjoy socialized health care or weak enough to accept poorer packages of benefits than uinonized US auto workers'.
Outsourcing to Suppliers
As long as the UAW accepts the multi-tier wage structure (lower wages for workers at supplier plants than GM plants as well as lower wages for new hires than existing workers), jobs will be outsourced from GM plants to supplier plants, even if the latter are unionized (cf. Jane Slaughter,
"UAW Trades Pay Cut for Neutrality,"
Labor Notes
, July 2003; Jane Slaughter,
"UAW Will Trade Concessions for Health Care, Organizing Rights,"
Labor Notes
, September 2003; Jane Slaughter,
"Auto Union Embraces Two-Tier Wages,"
Labor Notes
, October 2003; and Jane Slaughter,
"Hidden Surprises in New Auto Contracts: Agreements Easily Ratified as 'Unpublished Letters' and Some Concessions Stay Hidden,"
Labor Notes
, November 2003).
On the Brink of Extinction
All thinking union men and women know the aforementioned problems and more. The question is if they can come up with a strategy and tactics to solve them -- in time.
General Motors said . . . that it would cut about 25,000 jobs from its blue-collar work force in the United States by the end of 2008, in a broad move to reckon with its declining grip on the American car market.

The cuts, which represent about 22 percent of the hourly work force, would bring G.M.'s nationwide employment to 86,000 hourly workers, roughly the number it employed in the city of Flint, Mich., in the 1970's. The action will include an unspecified number of plant closings and is the most sweeping single job cut announced since 1992, though G.M. has already eliminated nearly 30,000 hourly and salaried workers over the last five years. The company hopes to continue to make the cuts largely through buyout and early retirement offers and to avoid layoffs.

Over all, G.M. will employ 125,000 Americans once the plan is put into effect, compared with more than 600,000 workers in 1979, when G.M.'s employment was at its peak. (emphasis added, Danny Hakim, "G.M. Will Reduce Hourly Workers in U.S. by 25,000," New York Times, 8 Jun. 2005)
With a few more rounds of cuts like this, there will be soon no more GM hourly workers left in the United States.